New doctor: Dr Hamza El Ayoubi, Ophthalmology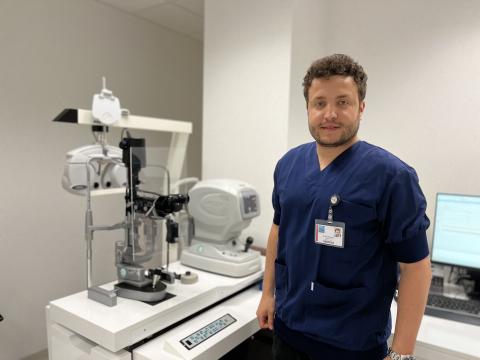 The Europe Hospitals would like to welcome Dr Hamza El Ayoubi, who has just joined the Ophthalmology Department on the St-Elisabeth site. Dr El Ayoubi specialises in laser refractive surgery (myopia, hyperopia, astigmatism, lasik/femtolasik, prk/epilasik), general ophthalmology, cataract surgery and medical glaucoma. 
He obtained the specialisation in ophthalmology with Great Distinction at the Université Libre de Bruxelles in 2019 and the European Diploma in Ophthalmology (Paris, EBO) in 2019 as well. He obtained the title of Doctor of Medicine with Great Distinction from the Université Libre de Bruxelles in 2015 and has worked as a resident at the Hôpital Saint Pierre and the Hôpital Brugmann in Brussels. He also consults at two private ophthalmology centres in Brussels and Wallonia.
It is with great enthusiasm that he joins the ophthalmology team at the St-Elisabeth site to work as part of a team and collaborate with other colleagues to ensure the follow-up and treatment of the patients he sees in French, Arabic and English.
Contact
Ophthalmology Department
02-614 27 54 (St-Elisabeth site)
02-614 35 20 (St-Michel site)
Need more information? Click here.