Mediation service (complaints)
Your assessments, experiences, suggestions and complaints are important to help us improve the quality of care and services that you rightly expect. We therefore welcome them.
If you wish to inform us about anything, we urge you to first contact the department or person concerned, if possible: the nurse/head of the unit in which you were hospitalised, the admissions and consultations manager, the medical secretaries, the doctor responsible for your follow-up care, the billing department, etc. Thus, the information will be given to you directly, any misunderstandings cleared up and certain solutions rapidly found.
If you are not entirely satisfied with this procedure, you can contact Mediation Services:
by post: Mediation Services, Europe Hospitals, Av. De Fré, 206, 1180 Uccle
by phone: from 9 to 12 on 02-614 90 93
by using the contact form or by email mediation@euhos.be
The role of the mediator is to serve as a liaison between the patient, his/her family and the hospitals; to facilitate, to the extent possible, the search for amicable solutions when complaints are lodged; to propose recommendations to management with regard to the quality of care dispensed and patient satisfaction. The mediation process is independent, neutral and free of charge.
Office hours of the mediation service
Appointments can be booked during working days. 
The mediator is present mainly at the St-Elisabeth site and can come to the St-Michel site at your request. To ensure the best possible conditions for your meeting with the mediator, we recommend that you book an appointment in advance. 
location of the mediation service
The mediation offices are located at the St-Elisabeth site, near the reception desk/central information point. The reception staff will be happy to answer any of your questions. 
THE DEFINITION OF MEDIATION
« Mediation is a voluntary process of establishing or re-establishing social relationships, and preventing or resolving disputes. This process is achieved through an ethical exchange during which the parties strive to reopen the dialogue in order to resolve their situation. During this process, a mediator, an independent third party, facilitates the exchange in an impartial manner, and without influencing the outcome while ensuring that the interests of each party are respected and that the confidential nature of the exchange is preserved. » 
Mediation in the hospital setting
Hospital mediation encompasses the handling of complaints relating to the exercise of rights granted to patients under the Law of 22 August 2002. (See also the Internal Regulations) and the Royal Decree of 8 July 2003 (fr - nl) (Royal Decree setting forth the conditions under which hospital mediation must be conducted).
The role of the mediator is to serve as a liaison between the patient, his/her family and Europe Hospitals; to facilitate, to the extent possible, the search for amicable solutions when complaints are lodged; to propose recommendations to management with regard to the quality of care dispensed and patient satisfaction. The mediation process is independent, neutral and free of charge.
WHAT THE HOSPITAL MEDIATOR IS NOT (1)
The mediator is not a judge; his role is not to dispense penalties. The power available to him is contingent on how much both parties wish to confer on him. It is their prerogative to refer to management or not. (NB: the remarks and/or penalties are not disclosed to the patient clientele).
The mediator is not a lawyer: he is multi-partial (fully attentive to each party without passing judgement), does not take sides and, is not there to decide which party is right.
Mediation Services is not a claims office: some grievances may be resolved by the patient himself.
(1) See the Internal Regulations available online or by simple request in paper form
When do you contact the mediator?
REASON

MEDIATION

OTHER SERVICES

You feel that, as a patient, your rights have not been respected

YES

If you were not able to solve the problem by yourself

 

NO

 

You have a suggestion for improvement or wish to congratulate a team

YES

 

 

NO

 

You had a problem in the car park

YES

Except in case of a medical problem: please contact the legal department: 02-614 27 91

You have problems with your invoice

NO

please contact the legal department: patientsadministration@euhos.be

If you have suffered loss or theft

NO

please contact the loss & theft department by phone: 02-614 27 91

If you need an interpreter

NO

Please contact Inter-cultural Mediation Services by email: icm@euhos.be, or by phone: 02-614 91 10

You need to obtain a medical record

NO

Please follow the procedure provided by the hospital reception and send your request to dossiersmedicaux@euhos.be with a copy of your identity card.

Post Mortem medical file

NO

Please contact the legal department: 02-614 27 91

As a service provider, you believe that the patient has not honoured his duties

YES

 

NO
(2) Law on patient rights see Internal Regulations and leaflet.
Patients' rights and duties
Your rights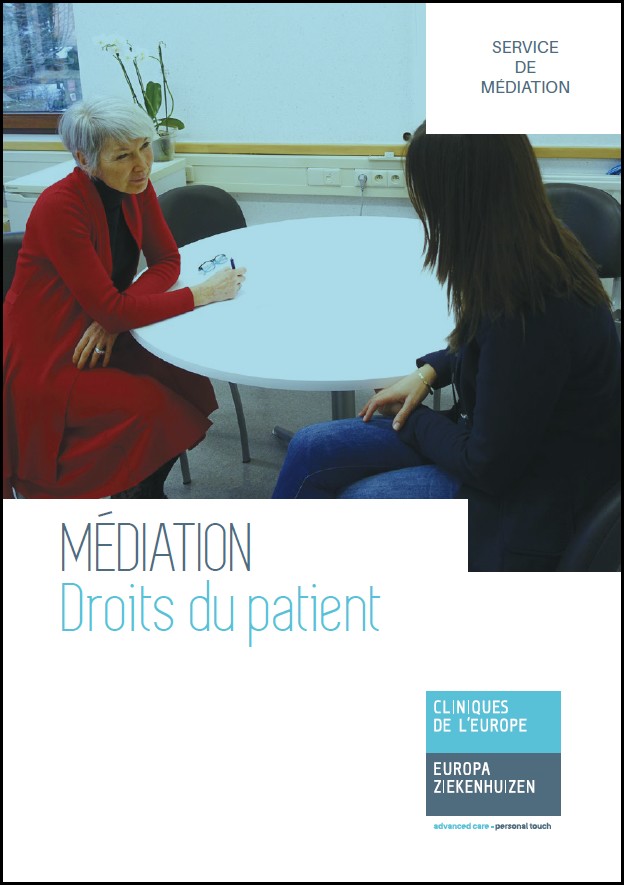 Click here to download the brochure (.pdf)
Give correct and complete information
Respect the hospital's rules
PATIENTS' CHARTER: DUTIES AND OBLIGATIONS
(according to the law of 22/08/2002 on patients' rights)
WE WELCOME YOU TO THE EUROPE HOSPITALS
Our priority is to place you actively at the centre of the care relationship by focusing on:
Your respect: by ensuring that we listen to you in a courteous and cordial manner, respecting your intimacy, your convictions and your private life. As soon as possible, we will inform you as clearly as possible about your state of health and the care options available to you in order to obtain your informed consent. You are guaranteed access to your medical file within two weeks of your request.

The quality of your care: we are committed to treating you with the most up-to-date medical knowledge thanks to a state-of-the-art infrastructure that ensures the greatest possible comfort and in your best interest. We ensure a close multidisciplinary collaboration, in particular with your general practitioner, who will be kept informed at all times, in accordance with the rules of medical confidentiality.
We hope you will show respect for :
our staff members who are always at your disposal
other patients
the hospital, its equipment and its organisational rules
appointments
visiting hours
We also hope that we can count on the transparency and accuracy of the information that you provide to us at the admission desk and that it is kept up to date afterwards.
We would be very grateful for your possible participation in scientific studies, this being of course subject to your permission without any obligation.  
The staff of the Europe Hospitals will do everything in their power to fulfil their obligations. If you should nevertheless have a remark, suggestion or complaint, you can contact the hospital mediation service (mediation@cdle.be 02 614 90 93).
This Charter aims to establish a genuine partnership between the various parties concerned in order to provide optimum care for our patients in a respectful, harmonious and efficient atmosphere.
Inform the care provider of correct and complete information about your health condition and medication. In this way we can offer you the best possible care. If you have agreed to a particular treatment, you have a duty to cooperate fully with that treatment and to follow your doctor's advice carefully. Participate in our satisfaction surveys which are organised periodically. Your findings will help us to improve our services.
Be respectful of your health care provider
Courtesy and mutual respect are the basis for contacts between hospital staff, patients and visitors. There is no place in the hospital for derogatory or discriminatory remarks, aggression or other forms of threats. 
Turn off your radio, television, tablet (e.g. iPad), telephone for the peace of mind of other patients and staff.
Stop your telephone conversation or other activity when a health care provider is administering care or asking you for information about your health status.
Treat equipment and facilities with due care
To film & take pictures is not allowed
It is illegal to film or photograph doctors or other hospital staff without their prior express consent. This is a violation of the right to image and privacy.
What happens if the rules are not respected?
Inappropriate behavior will be dealt with in detail and, if necessary, may lead to exclusion from the institution. 
In addition, any act of vandalism or violence will be reported to the police and may result in the payment of substantial compensation. 
If you won't pay you invoice, costs will be charged and legal action may be taken to obtain recovery by bailiffs.
Brochure "Mediation - patients' rights"

Click here to download the brochure (.pdf)